There is a new coupon for $1.00 off any (1) DOVEBAR Ice Cream Multi-Pack.  I love these!  The dark chocolate variety is my favorite!  Here's how to score a deal at Walmart:
Buy 1 Dove Ice Cream Bars 3 pack $1.97
Use the $1.00 off any (1) DOVEBAR Ice Cream Multi-Pack
Final Cost $0.97 – just $0.32 per bar!
(Thanks and Photo Credit, The Wally World Woman!)
Hurry on over before this sells out to get a super hot deal on a Costco Membership!  For only $55, you get the following:
Become a new member or upgrade your existing Gold Star or Business Membership with this limited deal
free rotisserie chicken
free 48-pack of batteries
free 35 count case of Kirkland Signature™ water
and more
Here's the latest printable coupon list!
Pet Care
Hormel + BBQ!
Cleaning, Scrubbing + Body Care
Frozen Treats
Entertainment
Drinks
Here are this week's Aldi deals!
3 lbs of Organic Fuji Apples $3.69
Organic Bananas $.60 per lb
2 lbs Vidalia Onions $.99
4 pack sweet corn $1.29
$3.49 for Seeded or Seedless Watermelon
1 lb Strawberries $.99
Pint Blueberries $1.99
There are also great deals on summer and pool items. Check out the Banzai Water Slide for only $5.99!!
Schools out ( or almost out), so time to get your kids signed up for Summer Reading at your local library. Kids not only get the joy of reading throughout the summer, but if they reach certain milestones they can receive prizes!  Athens-Clarke and Oconee County both have their programs up and running. Kids have from now through August 6th to finish their lists and get their prizes.
Super excited to announce that Buffalos Cafe (in the Beechwood shopping center) will let kids eat free all summer (with adult meal purchase). It is 1 free kids meal per adult meal, but they have a great kids menu. Not just burgers and fries. My kids like the grilled chicken or the chicken wings meals.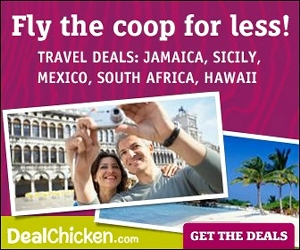 My cousin was telling me the other day about all the deals they get from a site called Deal Chicken. They even have tons of vacation deals! That's the first I had heard about it but the looks of it seems like it's pretty popular! Check it out and look at all those vacation deals!!
Hooray!  Sometime last night we crossed over 2,000 fans that love Couponing in Athens on facebook!!  Let's celebrate with a giveaway!  Enter below!
Coffee Lovers, here's a deal for you! Get a bag of Amora Coffee for FREE, only pay $2.95 for shipping!  Sounds like a great deal!
About every four weeks you will receive a fresh batch of four 8-ounce bags in the blend you selected, at the regular price of $12.95 per bag plus $6.95 per shipment for handling and expedited delivery, billed to the credit card you provided. You may make changes to your account at any time by calling us toll-free at 1-855-MI-AMORA. Cancel at anytime.
The countdown to summer has begun and several theaters have announced their annual discount summer movies lists
Here in the Athens area you can check out the movies at Beechwood Cinemas on Tuesday and Thursdays. Admission is $1 per person, and drinks or popcorn are $1.50 each. There are two movies each time, one will be one of the Harry Potter films and the other is an animated movie. Here's the detailed list:
June 4 & 6
Harry Potter & the Sorcerer's Stone
Hotel Transylvania
June 11 & 13
Harry Potter & the Chamber of Secrets
Madagascar 3
June 18 & 20
Harry Potter & the Prisoner of Azkaban
How to Train Your Dragon
June 25 & 27
Harry Potter and the Goblet of Fire
Cloudy with a Chance of Meatballs
July 2 & 4
Harry Potter and the Order of the Phoenix
Despicable Me
July 9 & 11
Harry Potter and the Half Blood Prince
The Lorax
July 16 & 18
Harry Potter and the Deathly Hollows Part 1
The Pirates
July 23 & 25
Harry Potter and the Deathly Hollows Part 2
Rise of the Guardians
You can also visit Carmike Cinemas, where on Thursdays you can see a movie and get a drink and popcorn for just $4 per person. Films being shown are:
June 6
June 13
June 20
June 27
Ice Age: Continental Drift
July 4
July 11
July 18
Madagascar 3: Europe's Most Wanted
July 25
August 1
August 8